Pantera's Forever!
by George Pence
©Pantera International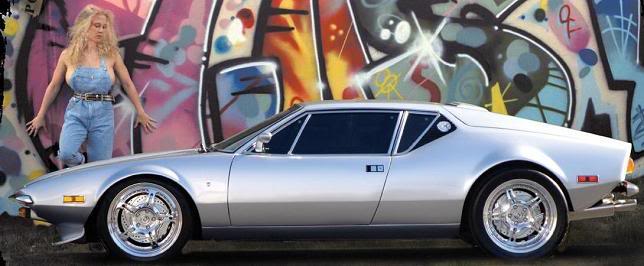 Pantera by De Tomaso
The Pantera is an Italian sports car designed in 1969 at the request of Lee Iacocca on behalf of US Ford. It was designed for the North American automobile market to replace the Shelby Cobra as US Ford's sports car. Like the Cobra, the Pantera was powered by a high performance Ford V8 motor. Power was transmitted to the rear wheels via a five speed manual transaxle manufactured by ZF of Germany; the same transaxle that had been utilized in Ford's Le Mans winning GT40 race car. The Pantera's monocoque uni-body combined captivating coachwork designed by Ghia (Tjaarda) and a mid-engine chassis designed by De Tomaso (Dallara). The Pantera had the qualities of both an Italian sports car and a muscle car, it was beautiful and at the same time brutish.
Panteras were manufactured in Modena, Italy by De Tomaso Modena S.p.A. beginning 1970. They officially went on sale in North America and Europe in the spring of 1971. Those imported to the US and Canada by Ford were sold at specially selected Lincoln/Mercury dealerships.
The agreement between Ford and De Tomaso gave Ford exclusive sale rights in North America, but De Tomaso was free to sell the Pantera elsewhere around the world, and so they did. The Pantera was refined beyond Ford's specification for sale in Europe, resulting in the November 1971 introduction of the Pantera GTS model. From the GTS sprang two racing models and a succession of four wide body models.
Ford terminated its Pantera sales program in August 1974. Altogether, 5262 Panteras had been imported to the US by Ford between May 1971 and August 1974. Although Ford's interest in the Pantera had ended, its beauty and performance had earned the car throngs of admirers around the world; De Tomaso continued selling their iconic sports car in Europe and other international markets for another two decades. The Pantera's reputation as one of the most bad-ass car ever assembled endures to this day, 19 years after the last Pantera was constructed.